Mariarosa Baroni, President of World Gas Mobility Council (WGMC) and NGV Italy, is participating as a speaker at the #IndiaEnergyWeek Strategic Conference (6 – 8 February 2023, Bengaluru, India), an event under the patronage of the Ministry of Petroleum and Natural Gas. The strategic conference converges Ministers, global CEOs, policymakers, and industry influencers to advance crucial conversations on energy security, net-zero commitments, and the future of industry.
Mariarosa has more than 35 years of experience in the development of alternative fuels transport, contributing in the early 90s' as an entrepreneur to the launch of OEM's first original gas-powered cars, while developing a network of hundreds of specialized LPG and CNG installation and maintenance workshops.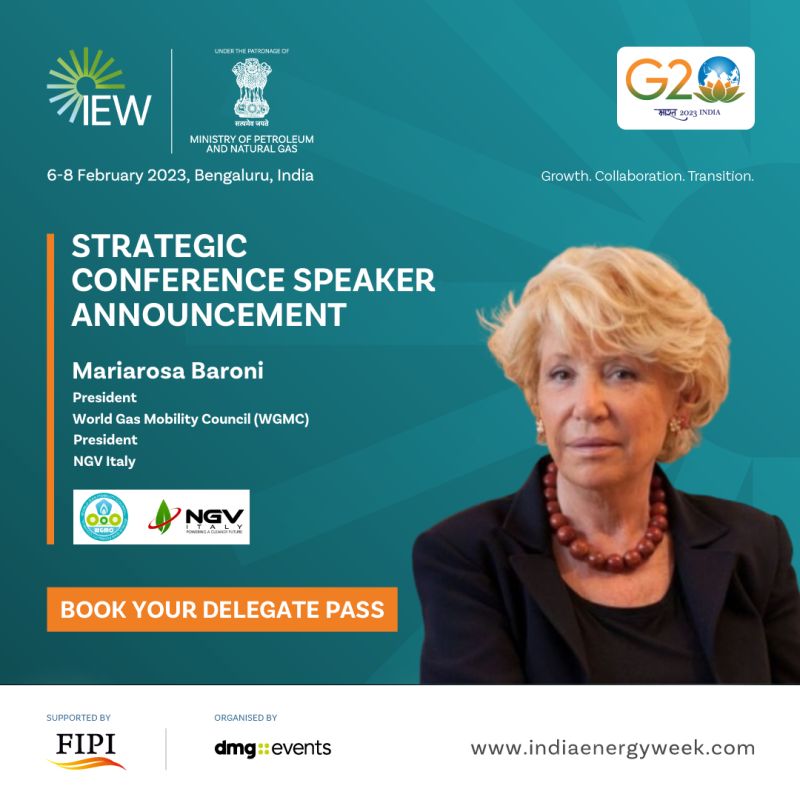 Based on her unique and extensive experience, Mrs. Baroni is the leading voice of g-mobility, providing also deep-dive expertise for business development and training opportunities in the different segments of the value chain.
She is also President and CEO of NGV International Academy (NIA), a company whose mission is to facilitate the commercialization of clean fuels and technologies, doing lobbying, analysis, and feasibility studies training. NIA works for its clients worldwide thanks to its expert individual tailored services related to natural gas mobility, and alternative fuels such as biomethane and hydrogen.